Oracle Planning and Budgeting Cloud Service (Oracle PBCS) is Oracle's cloud offering for financial planning and budgeting. This post gives an overview of the cloud service covering access, application creation, mobile interface, data management, automation options and service management.
Accessing Oracle PBCS
Oracle PBCS subscription offers two environments; Test and Production. Each environment has a dedicated URL to access Workspace. When you access Oracle PBCS Workspace, you get a login screen with a field to enter an identity domain. This is supplied to you when you acquire the Oracle PBCS license. You will be prompted to enter the user-id and password once you enter the domain and hit 'Go' to continue.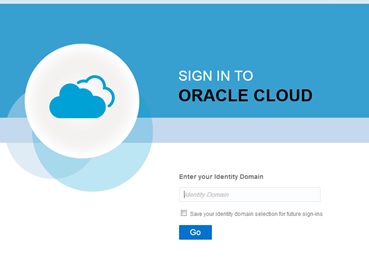 Once you log on, you should see the Planning Administration page. If you don't see this, you can access this page through Navigate->Administer->Planning and Budgeting Service. This is the main page which allows you to create application and manage applications. Please note that the 'Create Application' option is only visible when no other application exists within Oracle PBCS. As soon as you create an application, you no longer see this option.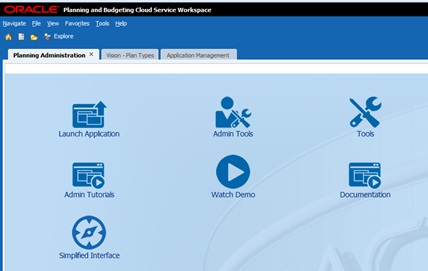 Once an application has been created, you do not have the 'Create Application' option available unless you delete an existing application. You can delete an application from the 'Admin Tools' option.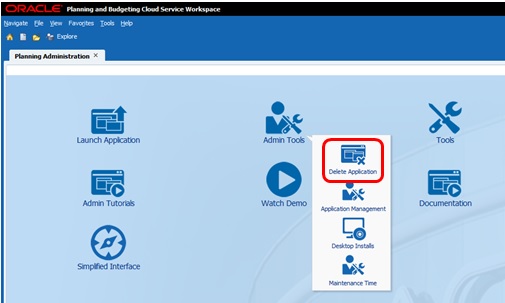 Application Creation
The simplified interface provides a new application creation wizard to create a sample, simple or advanced planning application (Please note that these options i.e. simple or advanced are not available for application creation using the standard interface)
Simple Planning Application – This creates a basic application with one plan type. You have the option of converting a simple application into an advanced application. You can add up to 20 dimensions, supports MDX on member formula's only. A simple planning application does not support business rules; map reporting, copy data, copy version, exchange rates, or currency conversion.
Advanced Planning Application – This creates an application with two plan types (1 BSO & 1 ASO) and the option to add more plan types. The maximum configuration is an application with up to total 7 plan types – 3 BSO databases, 1 ASO reporting database for each BSO database and 1 additional ASO database for plan type consolidation purposes.
An advanced planning application supports up to 20 dimensions, custom calendars, business rules, member formulas. Please note that an advanced application cannot be converted to a simple application.
Tablet Access
The other application management options are similar to what you have for an on-premise application. Make a note of the option called 'Tablet Access'. The 'Tablet Access' selection allows you to setup access to forms, tasks so that they can be viewed when Oracle PBCS is accessed from a mobile device. The list is empty by default.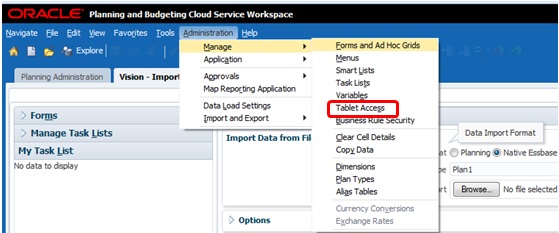 Application Management
The Oracle PBCS equivalent of Shared Services console is called 'Application Management' and can be accessed by going to Navigate->Administer->Application Management.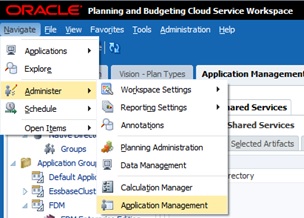 Please note that only native groups are supported at this time. There is no support for external authentication configurations such as MSAD.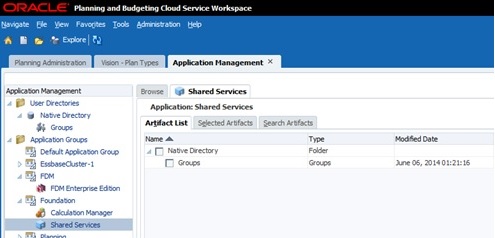 Maintenance Time
The 'Maintenance Time' option lets you select a backup time for automated scheduled system backups. This is also the time when version updates and patches are released to your PBCS environment. Maintenance Options can be accessed from the Planning Administration landing page through the 'Admin Tools'.
Oracle typically pushes updates to the Test Oracle PBCS instance first followed by Production Oracle PBCS instance 2 weeks later. The designated Oracle PBCS Admin in your organization will receive an email from Oracle about the update dates for Test and Production Instance along with an attachment containing details about the patch or upgrade, new features, defects fixed and so on.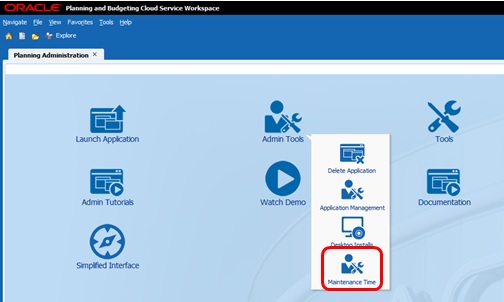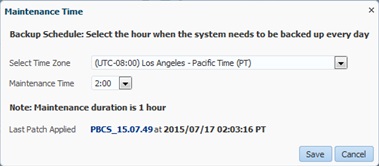 Because of the typical 2 week window between test and production instance upgrade, there may be cases where you have to maintain two versions of clients. For example, the Oracle PBCS Release v15.08 due in August needs a new version of FR Studio (v 11.1.2.4.400) to be installed. This means you need this (newer) version of FR Studio to access the Test Oracle PBCS Instance while you also need the current (older) version of FR Studio to access the Production Oracle PBCS Instance. This situation can be handled by having a designated workstation/virtual machine setup each for Test instance and Production instance. EPM client's specific to Test or Production instance can be installed on individual workstations and can be upgraded as needed. Power users can connect to these workstations using remotedesktop to carry out report development activities.
Simplified Interface
A separate interface within PBCS called 'Simplified Interface' is available which is more geared towards using it through a mobile device. The simplified interface is available with the on premise EPM 11.1.2.4 version as well. The 'Simplified Interface' allows you to perform planning tasks in a mobile device friendly interface. Clicking on the 'Simplified Interface' opens up another page showing the simplified interface. Per Oracle, certain new features introduced in PBCS will only be available via the simplified interface.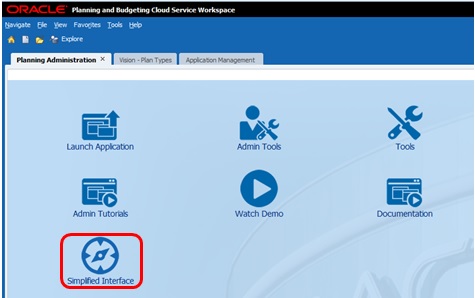 Administration tasks can be accessed through the 'Navigator' option. (I was not able to access the 'Navigator' option when I accessed Oracle PBCS through a tablet. Perhaps something had to be set to view this on a mobile device)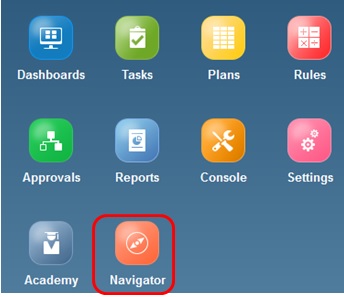 The main section in the simplified interface is 'Navigator'. This is basically the where you would create new objects in the application like forms, rules etc.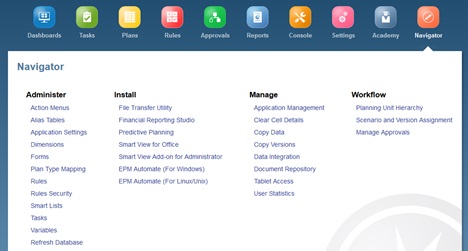 Here are some screen shots of the other important sections of the simplified interface:
Console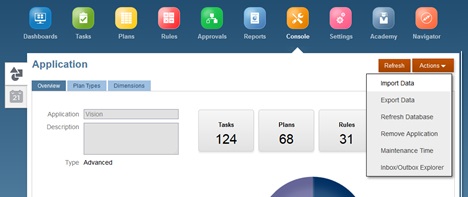 Settings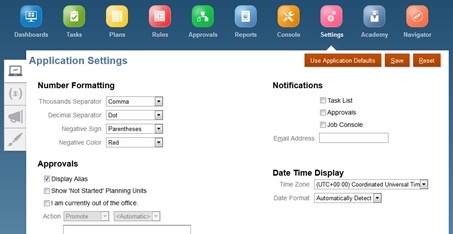 Form folders under the 'Plans' Section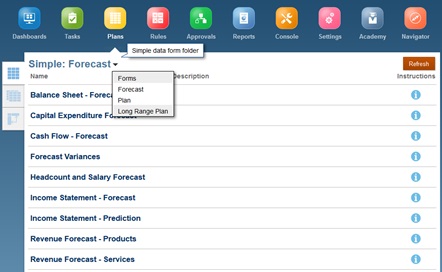 Launch Business Rules from the 'Rules' Section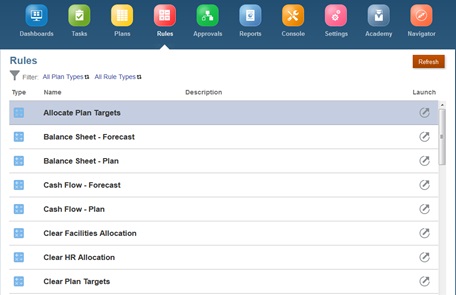 Data Management
The on-premise cloud equivalent of FDMEE is called Data Management and can be accessed by navigating to Navigate->Administer-Data Management from the Oracle PBCS Workspace.The only source that Data Management accepts is a flat file.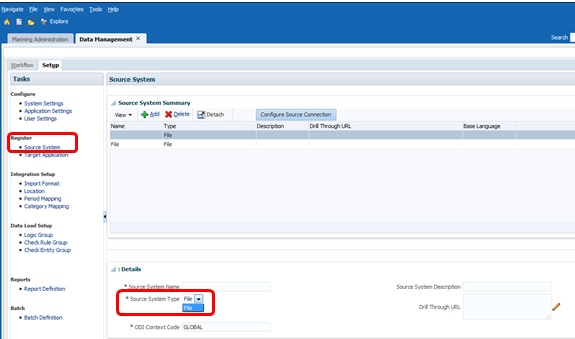 The target application for Data Management can be Essbase, Planning or a Custom Application. A custom application is used to export data from Oracle Planning and Budgeting Cloud Service into a text file for use in an external application.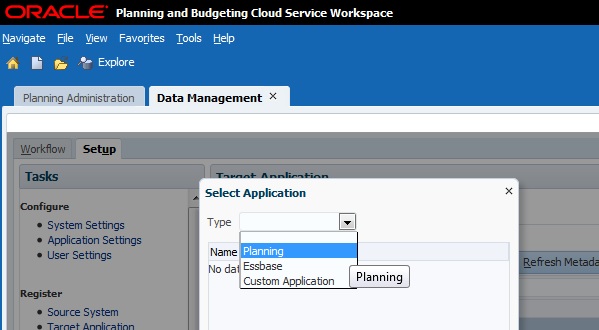 Oracle PBCS Automation Options
Automation options for Oracle PBCS include a utility called 'EPM Automate' for Planning and 'EPM Copy' for Data Management. EPM Automate is to automate a variety of automation tasks for Planning like uploading a data file, loading to the database, uploading a metadata file, updating dimensions etc. while EPM Copy is used to transfer files from and to Data Management. These utilities can be downloaded from the Oracle PBCS Workspace by navigating to Tools->Install. The 'File Transfer Utility' is the link to download the 'EPM Copy' utility.

Read this post for more information on automation options within Oracle PBCS.
Managing Oracle PBCS Cloud Subscription
Managing your Oracle PBCS Cloud Subscription is done through the service portal, URL for which is provided with your Oracle PBCS Cloud subscription. The Services portal allows you to view the service dashboard, manage users & roles and view any notifications for the Oracle PBCS Instance. Some screenshots are given below.
Dashboard

Users

Notifications

Oracle is definitely investing a lot of time and development effort in Oracle PBCS. I have been working with Oracle PBCS since its launch last year and have seen it getting better with every release. Hope this post gives you a general idea of Oracle Planning and Budgeting Cloud Service.